Warm trade show leads generated just for you
Our Lead Generation Service matches exhibitors and trade show visitors with help from our Lead Generators. Lead Generators engage visitors in conversation, ask them qualifying questions and guide them to your stand. Lead Generation Service has three steps: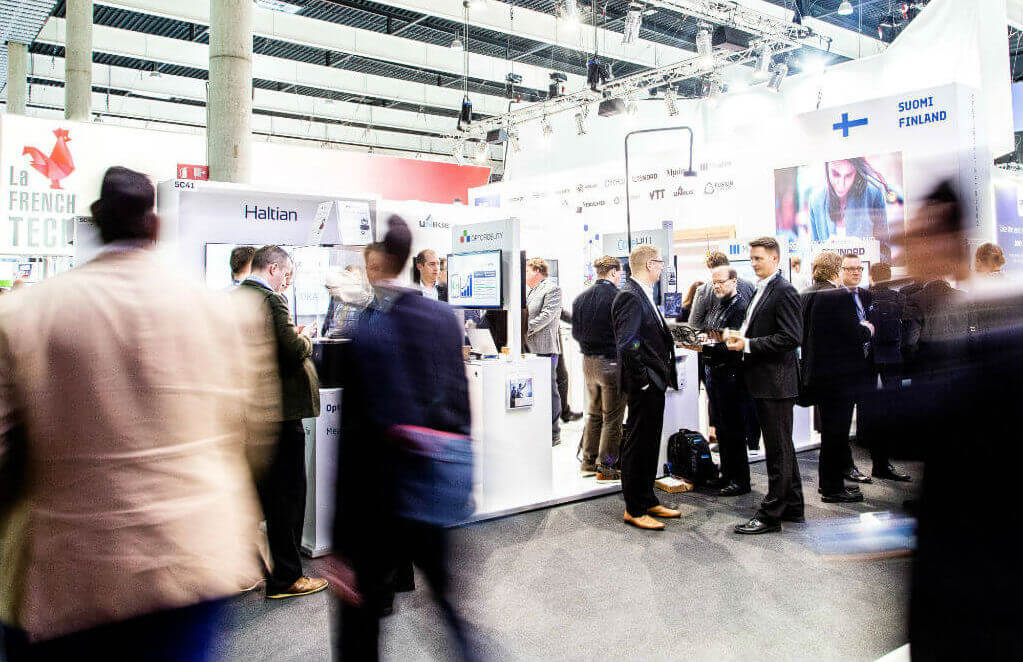 How we do it
Step 1 The Interview
Before the show, we make an interview with your trade show team. What are your objectives, your ideal customer profiles and the services and products you are showcasing? During interview we consult the team and discuss effective trade show marketing practices.
Step 2 The Lead Generation
At the show, our Lead Generators engage visitors in conversation and ask them qualifying questions. Visitors matching your profile are then guided to your stand with an introduction to the stand representative.
Step 3 The Follow Up
After the show, we provide you with the collected business cards in Excel and a project report featuring process description, results and recommendations for the next year.
Bitte quality promise
We bring 25-40 trade show visitors to your stand every day.
Lead Generation Service
the interview before the show
25-40 visitors / lead generator / day guided to your stand
collected business cards delivered in Excel
travel and accommodation expenses
project report
Price
Domestic trade shows:
starting at 1490€ per day / lead generator.
International trade shows:
starting at 1990€ per day /  lead generator.
Ballpark prices exclude 24 % VAT and an  exhibitor badge, which must be acquired by the customer.
"She got many decision makers to visit our stand."
– Asko Alanen, Head of Marketing, Lappset Creative
FAQ about Lead Generation Service
How can you pitch us? Our solution is too technical to be pitched by anyone else but us.
Our goal is to find visitors matching your potential customer profile. When engaging with visitors, we ask them qualifying questions and this helps us in guiding only the valid visitors to your stand. The solution pitching is always done by your own staff.
Do you have experience with our industry? It's necessary.
Before the show, we make an interview with your stand staff. We discuss your solutions, business benefits, potential customer profiles and buzz words in the industry. This way we get a general overview of your industry.
However, when discussing with visitors, we always focus on their needs because that is the key for creating warm leads for you.
Bitte's Lead Generation Service has been utilized in the following industries:
5G
air purification
artificial intelligence (AI)
Augmented reality (AR)
automotive
business consulting
cleantech
cyber security
electronics subcontracting
fintech
industrial maintenance
industrial robotics
Internet of Things (IoT)
machining
measurment and analyzing services
mining
mobile application development
Mobility-as-a-Service (MaaS)
pharmaceuticals
platform economy
PropTech
raman spectroscopy
retail
spectrum access tools
telecommunication protocols
virtual reality (VR)
Our budget is tight and we cannot buy extra services.
One exhibitor decided that one of the original staff members would stay at the back office to take care of the existing customer projects. With the saved budget, they bought Bitte's Lead Generation Service. This way the trade show stand had a continious flow of visitors and colleague at the back office was able to take hot leads in to the sales pipeline right away. 
Will you hand out flyers? It's costly and usually forbidden in the show.
We do not hand out any materials. We simply engage visitors into conversation and that's perfectly ok in any trade show. 
How many visitors will you bring to the stand?
In average, each Lead Generator will guide 3-4 visitors per hour to multiple exhibitor stands (pavilions) and 1-2 visitors per hour to individual stands. The amount of visitors depends on the day and time of the day. 
How do you find decision makers? This is important for us.
We identify decision makers from their badges, dress codes and simply by asking, what people do at the work. Our quality promise is to bring decision makers to the stand. Regardless of the show, 1/3 of the leads generated by us represent CxO-level. 
How randomly encountered people could be potential customers for us?
Trade show lead quality is achieved through quantity. By having discussions with 10-15 visitors each hour, we find 3-4 persons who are genuinely interested in the presented solutions. 
Because we interview your trad show team prior to the show, we know what industries, companies and roles you want to talk to. Our Lead Generators also control the quality during the show by asking feedback from the stand personnel.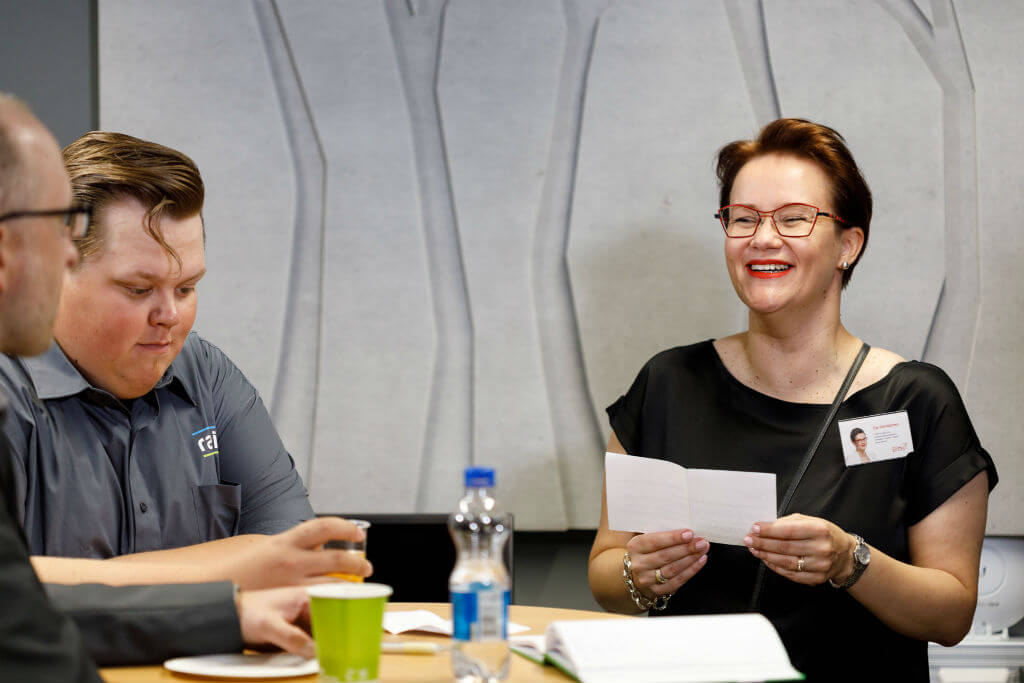 Our focus is to meet longterm subcontracting partners at the show. How Lead Generation Service could benefit us?
We help you to reach your trade show goals in terms of quantity and quality. If you wish to find new (technology) partners, recruite new Sales Director, engage with potential new investors, gain media coverage or meet the thought leaders in your industry, Bitte's Lead Generation Service can help you. 
Our stand is usually packed. Where would we need Lead Generation Service?
Congrats – you know how to set up meetings in advance! Do you have visitors also during early morning hours and in the late afternoon? Would you like to increase the quality of ad-hoc contacts? Our quality promise bring decision makers to the stand – maybe you would like to meet more of executives? 
Our team is experienced and can engage with visitors. Why would we buy Lead Generation Service?
How many business cards your staff is collecting every hour? How many of them are warm leads?
Very few exhibitor employee is willing to stand outside the trade show stand and engage with as many visitors as possible. 
Bitte's Lead Generators are working systematically but above all: with passion!  We love helping visitors to find what they're looking for and our systematic way of engaging with them gives exceptional results for exhibitors.
What's the difference between Lead Generation Service and promotion?
The main differences are in customer groups and goals.
Bitte's Lead Generation Service is focused on business-to-business (B2B) trade shows whereas promotion is often used in business-to-consumer (B2C) trade shows.
Bitte's Lead Generation Service has one goal: to find the decision makers for corporate investments. 
Will you collect or give business cards?
Bitte's Lead Generators collect business cards.
For a single exhibitor, we scan business cards and deliver them in excel at the end of the show. In multiple exhibitor pavilions, we deliver only the relevent business cards for exhibitors. 
We seldom give business cards to visitors, instead we invite them to connect in Linkedin.
I wonder if this is disturbing visitors and other exhibitors?
Bitte Lead Generation Service has received very positive feedback from visitors, who face the challenge of finding solutions in the vast exhibition halls. Visitors are also surprised to meet someone who genuinely wants to help them. Trade show halls and aisles are neutral and open area for all in exhibitions and standing there or walking with visitors is not disturbing anyone.